What is Cake?
Cake for one person: A enjoyable treat for oneself
Cake provides the ML experts a easy way to have access to multiple ML toolkits, as well as self-defined module, with the  powerful support of efficient cluster computation.
Cake for a group: A pleasant sharing experience
Cake provides the researchers the easiest way of result sharing and peer reviewing.
Why is Cake?
In recent years, machine learning techniques have been widely adopted in both the academia and the business area. As the theory and algorithms of machine learning and data mining develop further, it takes more efforts for any individual or single academic institution to bring the state-of-art methods into practice. The demand for reusing the work of others, especially the implementation of a certain method, thus grows larger.
How is Cake?
Our goal is a set up a open source system with the following characteristics:
1. Integration of various machine learning software pack- ages, in easier deployment.
2. A better user interface to design experiments.
3. A practical way to cooperate among different experts on the same ML task.
When will be the first bite of Cake?
We hope to finish the version-alpha of Cake by the beginning of Feb. 2016.
Who are Bakers?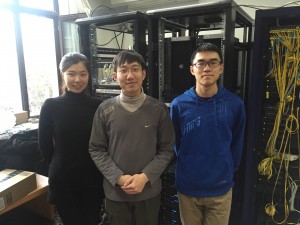 If you want to be a baker as we do, welcome to join us!